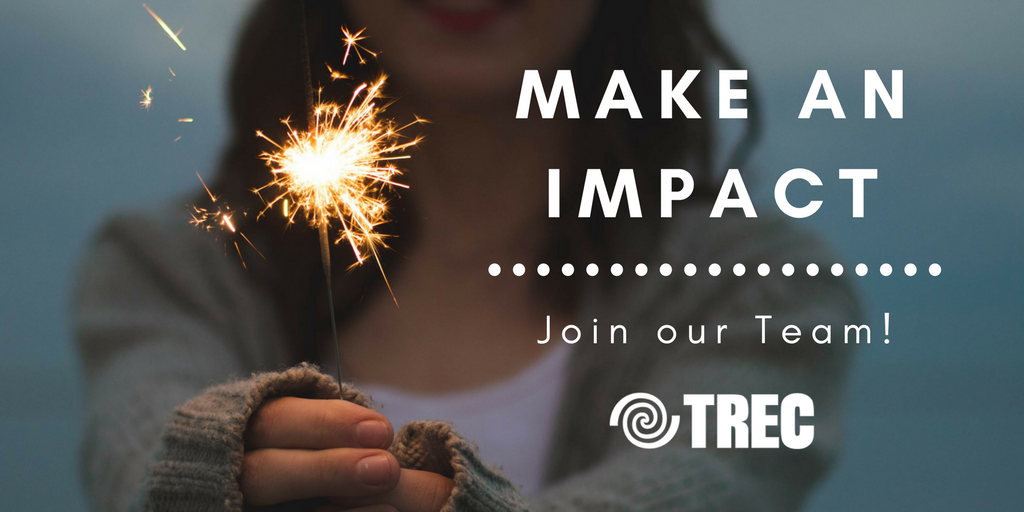 TREC is currently hiring for 2 full-time positions to join our team of passionate, hard-working social innovators, committed to positive social and environmental change. Our organization encourages diversity, work-life balance, professional development opportunities, and flexible work hours.
Business Development Manager
Start Date: September 2017
Deadline: Monday August 28, 2017
TREC is seeking an energetic, motivated and results-oriented Business Development Manager, responsible for finding and engaging new clients for our CIMS services, and developing strong relationships in the social enterprise, non-profit and social finance sectors. As a key member of our management team, this role will involve equal parts strategy, planning and execution.
As the Business Development Manager, you will guide clients through the initial stages of considering a Community Bond to finance a project, and may assist individual clients with their business planning and financial modelling. You will work closely with the CIMS team to adapt our service offerings to keep aligned with client expectations. In addition, you will be the primary contributor to an IESO-funded capacity-building initiative to identify, research and develop new business models and innovative partnership frameworks between Ontario renewable energy co-ops and municipalities.
You will be a great fit for this position if you enjoy building partnerships, are motivated by community participation and positive change, and bring an investigative approach to decision making, negotiation and problem-solving.
---
Marketing Manager
Start Date: September 2017
Deadline: Monday August 28, 2017
TREC is looking for a creative and results-driven Marketing Manager, to identify new markets, create promotional content and lay out the marketing strategies and tactical programs to support our client onboarding efforts.
As the Marketing Manager, you will spearhead our market outreach, highlighting the value of the community bond model and elevating our suite of services within the social finance sector. There will also be numerous opportunities to work on individual campaigns, supporting our clients' community bond raises. You will also be responsible for expanding and enriching our presence within the renewable energy sector.
You will be a great fit for this position if you enjoy both setting strategy and implementing new ideas, are motivated by community participation and positive change, and you can demonstrate excellent collaborative skills paired with sound judgement