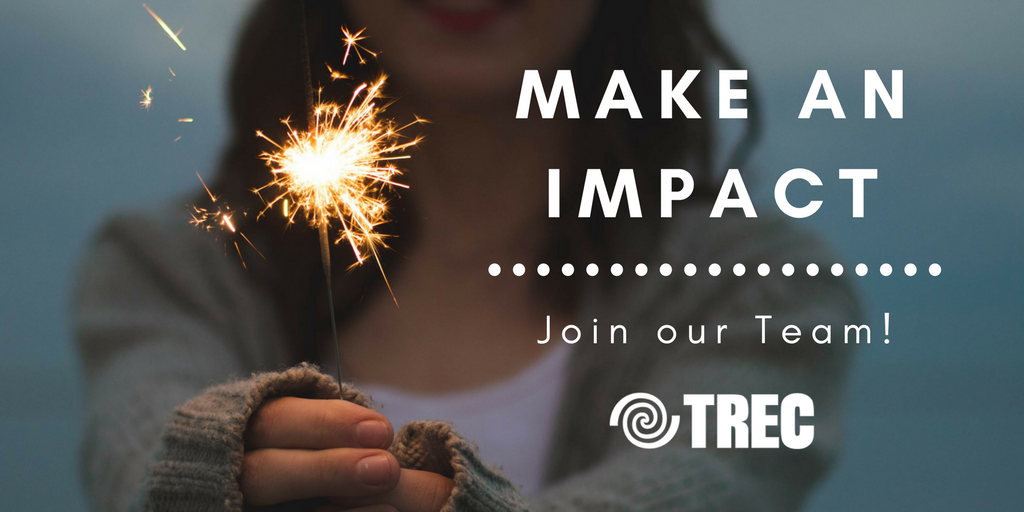 Start Date:                   September 2017
Salary Range:              $45,000-$55,000, commensurate with experience
Job Type:                     Full-time
Location:                      Toronto
About TREC
TREC is non-profit social enterprise that has been developing and supporting community owned renewable energy projects across Ontario over the past 20 years. We are a committed team of social innovators, that values flexibility, professional development and work-life balance. Our shared office is based out of a beautiful heritage building in downtown Toronto.
TREC has incubated and supported several successful Community Power projects. Through our Industry Research and Community Outreach, we strive to become a trusted thought leader in Canada's growing renewable energy sector. We founded a unique educational charity as well as SolarShare, North America's largest solar co-op.
At the core of our business is our Community Investor Management Services (CIMS), which provides guidance and support to co-ops and non-profit organizations who are raising capital for a social purpose project by issuing a Community Bond. We have developed a proprietary software platform and deployed a skilled support team to help our clients manage all phases of their Community Bond campaigns. As we grow this line of business, we envision TREC developing and offering a full suite of customized CIMS services from business planning, to financial modelling, through to marketing communications support.
Summary of Role
TREC is looking for a creative and results-driven Marketing Manager, to identify new markets, create promotional content and lay out the marketing strategies and tactical programs to support our client onboarding efforts.
As the Marketing Manager, you will spearhead our market outreach, highlighting the value of the community bond model and elevating our suite of services within the social finance sector. There will also be numerous opportunities to work on individual campaigns, supporting our clients' community bond raises. You will also be responsible for expanding and enriching our presence within the renewable energy sector.
You will be a great fit for this position if you enjoy both setting strategy and implementing new ideas, are motivated by community participation and positive change, and you can demonstrate excellent collaborative skills paired with sound judgement.
What you will be doing:
Strategy Development – Create and execute an annual marketing plan and budget to achieve goals set by TREC senior management, including media and social media strategy, and leveraging networks and partners.
Marketing Materials– Ensure our marketing materials are engaging and up to date. Develop written and visual content for TREC website, blog, e-newsletter, and social media. Coordinate with third-party contractors as required.
Outreach – Organize and promote monthly seminars targeted at the non-profit, co-op and social enterprise sectors. Develop tactical programs to raise awareness of the community bond model and TREC's Community Investor Management Services. Assist with delivering material at hands-on workshops, and other venues (e.g. conferences) as required. Other opportunities to be involved in special events may arise as we move forward with our marketing and communications efforts.
Media and Public Relations – Implement a marketing calendar to ensure press releases and other media announcements are distributed on a regular basis.
Volunteer Management – Train and manage volunteers to assist with writing blog and social media content, events and special projects, as required.
We are looking for someone with:
Degree in Communications, Marketing or a related field
3-5 years' experience in a marketing/communications role with increasing responsibilities
Proficiency in identifying target audiences and developing creative and effective outreach campaigns
Sense of curiosity, up to date on latest trends and best practices in online marketing
Strong inter-personal skills; superior writing and verbal communication skills
Confident public speaking ability
Solid knowledge of website analytics, Google Ad words and Facebook advertising
Great organizational skills, flexible, self-motivated and independent worker
Ideally, you also have:
Graphic design (adobe suite) and website (navigation, wordpress, CSS, html) skills
Knowledge of financial investments / social finance / social enterprises
Knowledge of the renewable energy industry and policy environments
What we can offer you:
Flexible working environment
3 weeks holiday plus health & wellness allowance
Opportunity to participate in the growth and development of a unique, meaningful, community-oriented social enterprise
Opportunity for career growth, professional development and continuous learning
Deadline:  Monday August 28 at noon. Applicants are encouraged to send their application as soon as possible as interviews will begin before the posting deadline.
How to Apply
Please compile a cover letter and resume in PDF and send as a single attachment. Use your full name as the file name (i.e. MaryJones.pdf). Send by email to jobs@trec.on.ca
In your cover letter, please address why you are interested in working for TREC, and how you would be successful in marketing our suite of social finance services to non-profit organizations and co-ops.
Please enclose a writing sample for a blog or similar piece you've written. Alternatively, compose a short post for our current blog: http://www.trec.on.ca/blog/
We thank you for your application but only those chosen for an interview will be contacted. TREC is fully committed to equal opportunity employment, and evaluating all applications equally.
PS – we're also hiring a Business Development Manager – find out more here